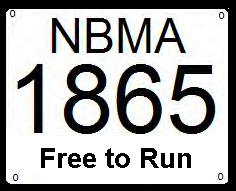 So a few weeks ago, a great group just happened into my purview and I am extremely upset at myself for just now running into them.
As the one reader of my blog, you should know by now that I am black. I know, I know – the shock probably knocked you out of your chair, but it's true. I am this cool, down-to-earth, geeky, smart, and black. How does that happen? I'll tell you how, it happens every day when folks let go of their stereotypes. Back to my point, though…
I happened upon a group called the National Black Marathoners Association via a search on the one search site that rules them all, while searching for the terms "black", "marathoners", and "haberdashery". Okay, that last phrase was a red herring – complete malarkey to throw you off your game. Anyway, they had some wonderful resources and a Facebook page. I figured I would bite and Like them.
Since that momentous day, I have been overwhelmed by informative post after informative post. One post by a member or fan asked the group what the best ways were for African-Americans (I prefer the term American-Africans, but I digress yet again) to get those 6 pack abs. Another post asked for advice on how to recover from a lat band injury. Another asked whether there is a link between spirituality and running. Regarding that last one, I am an atheist, but I still found the comments to be extremely informative and positive. In fact, every post by the group has been positive.
It's not often that I come across a site or Facebook page that does more than just make me chuckle or give me a quote I can use for the rest of the day. This site is one of those gems that I actively look forward to reading everyday because they are the best group of friends that I have never met.